Dear TripFinder,
Q: We live in Seattle and will host out of town guests over an upcoming weekend. Our guests would like to get out of town a little, and we're pondering a day trip to Bainbridge Island as a possible outing. We're hopelessly urban, so we need your help! What's there to do over there?
– Jacob and Renee
Dear Jacob and Renee,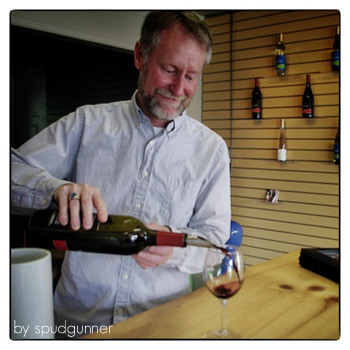 Rest assured, urbanites. There's plenty to entice you to Bainbridge Island for a day. You won't miss your city comforts for one minute, either.
Bainbridge Island is one of the easiest day trips from Seattle, and tourists love it for the short but scenic ferry crossing. To get there, you'll depart from the ferry dock downtown Seattle and cross to the charming village of Winslow (just over 30 minutes).Visit wsdot.wa.gov/ferries for current rates and ferry schedules.
For a small town, Winslow has some big-city attributes. My first stop off the ferry is always Blackbird Bakery for a strong cup of Herkimer Coffee and a fresh-baked pastry or gluten-free muffin. See, Seattle isn't so far away after all.
While you're in the village, why not pick up some local wine to toast over your holiday dinners? From the ferry you can walk to four wine tasting rooms (there are seven wineries on the island). Visit bainbridgewineries.com for tasting room locations and hours. Thanksgiving Weekend (Nov 23-25) is a designated wine tasting weekend on the island, so if you have your car with you stop by some of the rural tasting rooms as well.
On the north end of town is the newly-opened Bainbridge Island Brewing Company, which doesn't serve food but you're welcome to bring in your own while you enjoy a pint of craft ale in their taproom. I cannot wait to pay this place a visit!
If your trip falls on a Saturday, head to the Bainbridge Island Winter Farmers' Market (Saturdays Nov 17-Dec 22, 10am – 2pm) held indoors at the Eagle Harbor Congregational Church on the corner of Winslow Way and Madison Avenue. Pick up farm fresh vegetables for your holiday meals, chocolate truffles, sustainable seafoods and meat,  local arts and crafts, and gift items. There's also live music and hot food.
For a nice lunch on the island, you can't go wrong at Cafe Nola. I love their truffle cheese fries and char-grilled oysters. Another option I hear good things about is Hitchcock, which opened in 2010 and serves up locally-sourced, french inspired bistro fare.
If you visit Bainbridge car-free, stretch your legs and get a feel for the island's culture and scenery on the Waterfront Trail (click here for a map). If you bring a car, there are several parks and sights beyond the town of Winslow to explore, like Fort Ward Park on the island's southern tip. Frolic in the 137 acres and 4,300 feet of saltwater shoreline on Rich Passage. Many of Fort Ward Park's structures reflect the historic military significance of the area. Two remnant gun batteries are located in the park. This park was transferred from the state to Bainbridge Island in recent years, and there is no user fee required to visit.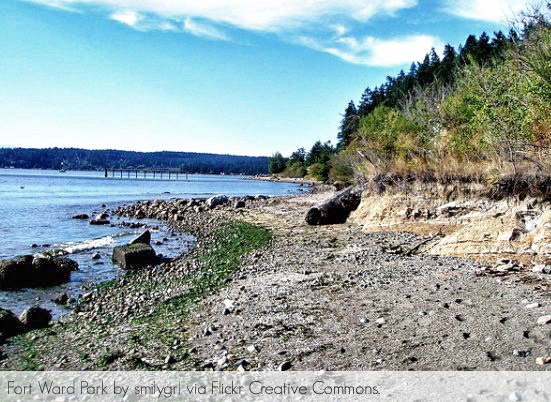 If your out of town guests would enjoy a more structured, guided excursion, you should consider Kitsap Tours, who we are proud to have as sponsors of Northwest TripFinder. They offer full and half day scheduled tours of Bainbridge Island, the Bloedel Reserve, and Bainbridge Island / Kitsap Peninsula. Click here for a special promotional code that gets you a discount, just for reading Northwest TripFinder.
Hope this helps!
Got a burning travel question? You ask, we'll answer.
New to Northwest TripFinder? Discover more year-round getaways in the Pacific Northwest by subscribing to our RSS feed and our email newsletter. You can also connect with us on Facebook. Thanks for stopping by!