THIS WEEKEND! Hood River Harvest Fest (October 11-13, 2019) is a classic fall festival that takes place right on the waterfront overlooking the Columbia River. Sample local apples, craft brews, wine, cider and artisan cheeses. Browse booths filled with local art and crafts. Enjoy live music and plenty of games and activities for the whole family. Kids will love bouncy houses, face painting, and the petting zoo. Admission is $6 daily for adults, $3 seniors and military, kids 12 and under FREE.
Between glacier-capped Mount Hood and the Columbia River Gorge lies a fertile valley of rolling hills where farmers raise alpacas, make fine wine and grow towering sunflowers.
Most of the farms in the Hood River Valley are small and family-run, but their output is big: about half of the nation's winter pear crop comes from this scenic valley.
One of the most exciting seasons to tour this region is during the autumn harvest. The crowds of summer visitors have dwindled, but the apples, pears, chestnuts, wine, cider and pumpkins remain.
Unlike Oregon's Willamette Valley, which stretches through a large swath of northwestern Oregon and skips through myriad towns, the Hood River Valley is pretty contained and much of it can be seen as a day trip or short weekend. Take all the time you can, though. This place is meant to be savored.
This fruitful journey, known affectionately as the Fruit Loop, is a 35-mile, scenic loop drive beginning and ending in Hood River that takes you through the valley's scenic orchards, vineyards, forests and friendly communities. When we visited this area we started the loop on the east end of town, where Hwy 35 heads south towards Mt. Hood. Every few miles or so we'd see a sign and pull over for a sampling of apples, a tasting of wine, or to feed some friendly alpacas.
Some of the orchards and farms are U-pick, offering the chance to get out into the fields or orchards and pick your own blueberries or cut your own flowers. U-pick has become a huge hit for canning enthusiasts and families alike. It's a wonderful way for our family to spend an afternoon together, taking in the scenery and learning about where our food comes from. The more we reconnect with the orchards and farms in our rural communities, the more likely we are to stand up and protect these areas from sprawl development and to support small, independent growers. And when you U-pick, you get to be reminded just how much more delicious fruit tastes right off the tree or vine.
For kids, every stop on the fruit loop map is a treasure. At one of our first stops, the Gorge White House, Isaac took off running to his heart's content through vibrant fields of flowers and rows of pear trees. Late-season dahlias and sunflowers showed no signs of weathering. During our stop (late September), boxes of freshly-picked red and green Anjou pears were going for five bucks apiece. Inside, visitors were tasting wines from a variety of Columbia Gorge wineries.
Another kid favorite is Draper Girls Country Farm, down in the middle valley. Visitors U-pick here in season or buy fresh from the farmstand, where they can also stock up on unpasturized apple cider made on-site, jams, jellies and premium cuts of lamb. Pumpkins of all shapes, sizes and unique markings adorn the base of tree trunks and old farming equipment around the farm. A cherished wooden swing hangs from the branch of a giant tree. And to top it all off, they have a petting zoo! If you want to immerse yourself in real life on the farm, check out their vacation rental house on-site – a genuine farmstay.
A fall harvest tour through the Hood River Valley is most fun from late September through October. As October comes to an end, many of the fruit loop spots shut down to visitors for the year. If you plan your visit for November or December, you'll still find plenty of farm stands open, and some of the wineries are open for tasting year-round. And of course, the fun of the harvest begins anew next June with strawberries, cherries and raspberries.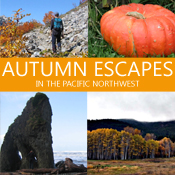 IF YOU GO
Get the full trip description and our suggested itinerary for this fall trip in our e-book, Autumn Escapes in the Pacific Northwest. We dish on all the best places to stay and eat in the region.
Use the Hood River Fruit Loop Map to plan your driving route and locate farm stands, wineries and more.
Mark your calendars – Hood River Hops Fest is September 1, 2019. Hood River Harvest Fest is October 11-13, 2019.
All photos are mine except the super stunning one up top of Mt. Hood at sunset, which is by zschnepf and purchased via istock.
This article was originally published in October 2011 and has been updated and expanded. iHood River at harvest time is a featured trip in our premier guide to fall travel – Autumn Escapes in the Pacific Northwest. Get the book and get inspired to spend your fall weekends combing rocky beaches, savoring the harvest, and hiking scenic mountain trails of Washington and Oregon.