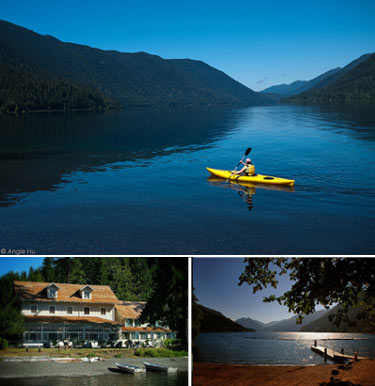 Folks come to glacially-carved Lake Crescent to see its crystal clear waters ringed with fragrant conifers. They stay for the enchanting hiking and the lakeside historic lodge.
Lake Crescent sits just 17 miles west of Port Angeles, so include it as a sidetrip if P.A. is your basecamp. Travelers with more time won't regret spending a night at the Lake Crescent Lodge, relaxing the evening away on a lakeside deck chair. Highway 101 snakes along the lake's south shore, though you leave the road roar behind rather quickly when you turn off for the lake.
Lodging: Lake Crescent Lodge was built in 1916 as Singer's Lake Crescent Tavern.  The charms of that era are evident throughout the lodge today. Accommodations in the main lodge are available in the summer months only; off-season rentals are available in the Roosevelt cottages year-round on weekends. After a day of hiking or fishing on the lake, dinner at the lodges' waterfront dining room is the perfect end to a summer day, especially if you catch the sunset.
Another century-old resort on the lake that still stands is Rosemary Inn, is now part of the lodging for NatureBridge environmental learning center. Take one of their nature courses to visit this area and learn more about its natural history at the same time.
Hiking: You'll get the chance to see varied scenery from the hiking trails here, from waterfalls to hikes with history. The must-do hike is Marymere Falls, a short jaunt (2 miles round trip) to a 90-foot plunging waterfall. If you have time after that, set out on the Spruce Railroad Trail on the lake's north shore, a total of 8 miles round trip, which follows an old railroad bed along the lake's pristine north shore.
Camping: On the west end of Lake Crescent sits Fairholme Campground (open April through mid-fall, 88 sites, no hookups). The Fairholme General Store and a boat launch are nearby. No reservations accepted, $12 a night.
RELATED: Olympic National Park Trip Guide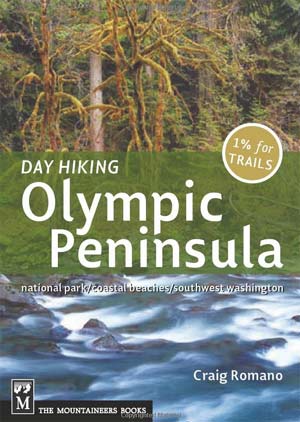 Day Hiking, Olympic Peninsula by Craig Romano (The Mountaineers Books)
From Hurricane Ridge in Olympic National Park to Green Mountain near Bremerton, guidebook author Craig Romano hiked every step of the trails featured in this essential guidebook. For each hike you'll get all the info you need (elevation, round trip mileage, driving directions) as well as Romano's personal take on what makes the trail worth your time. Buy this one and it will never leave your car!