Visit Poulsbo for a little slice of Norway, the freshest seafood and charming waterfront shops.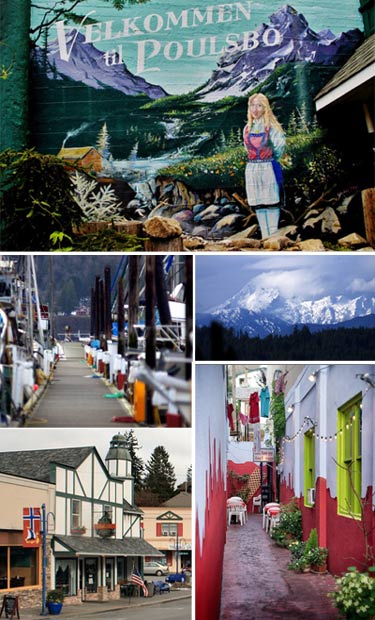 Velkommen Til Poulsbo! It all started back in 1883 when a Norwegian named Jorgen Eliason rowed across Puget Sound from Seattle and found a spot that reminded him of the scenery of his homeland, with fjord-like inlets backdropped by jagged peaks. More Norwegians soon followed and their settlement became known as Poulsbo, a scenic seaside community of Scandinavian loggers, farmers and fishermen. Although Poulsbo's branding as "Little Norway" was born out of the same tourism brain trust in the 1960s that put the Bavarian in Leavenworth, Poulsbo's Scandanavian roots are the real deal.
Set on the shores of Liberty Bay with a sailboat-filled marina, Poulsbo is as picturesque as Puget Sound villages come.
This easy day trip from Seattle is even better as an overnight getaway; choose from several area bed and breakfasts and inns.
Getting There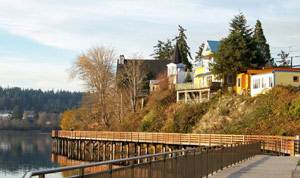 From Seattle, board a Washington State Ferry from the downtown ferry terminal to Bainbridge Island; the crossing is approximately 30 minutes. You will need your car for this trip. Once across, you'll exit the ferry and stay straight, driving onto Hwy 305, which crosses Bainbridge Island and then takes a small bridge onto the Kitsap Peninsula. Stay on Hwy 305 until you come to Poulsbo, approximately 12 miles from the ferry dock on Bainbridge Island. If you're coming from the south, cross the Tacoma Narrows Bridge on Hwy 16 and head north to Hwy 3 until you see the exit for Poulsbo.
Things to Do
Shop for antiques, art, yarn, books and more along Poulsbo's main drag, Front Street. Don't miss a stop at Liberty Bay Books.
Ever seen a saltwater touch tank? Get up close and personal with Puget Sound sea-life like starfish and sea anemones at the Poulsbo Marine Science Center (free, donations accepted, open Thursday through Sunday, 11am to 4pm).
Paddle a kayak in Liberty Bay. Bring your own boats and you'll find a put-in by the Marine Science Center. You can rent kayaks and paddle gear at Olympic Outdoor Center, located on the waterfront.
Where to Eat
Schnitzel or spätzle, anyone? Tizley's Europub serves up some authentic northern European dishes with things like sausages, corned beef and red cabbage alongside a large selection of beers. This cozy restaurant is a favorite of locals, and has a sweet view of Liberty Bay.
Although Poulsbo feels like Norway, you'll taste authentic, delicious Mexican down a brick walkway at Casa Luna. The mole colorado rocks, margaritas are tasty and prices are sweet. Enjoy outdoor bistro seating in summer.
Splurge for a cone of fancy, homemade ice cream at the Poulsbo branch of MORA. Their old world, artisanal process of making ice cream results in a velvety, creamy texture, and their flavors are out of this world.
You can't pass through Poulsbo without a stop at Sluy's Bakery. Pick up a loaf of their famous Poulsbo bread, snack on a bear claw and get a maple bar or two to go.
For a quick, cheap lunch head to Taqueria Los Cazadores for a plate of authentic tacos, fresh chips and homemade salsa.
Poulsbo's best bistro fare is found at MOR MOR Bistro, which I can only describe as Norwegian-influenced  with a  touch of  French and Northwest.  Their menu has everything from meatballs to pasta, with a full bar and sizable wine list.

Nearby Trips
Visit Point No Point at the Kitsap Peninsula's tip to check out the first lighthouse built on Puget Sound. Take a short hike with a big view on the beach at Kitsap Memorial State Park. Time your trip for the farm-fresh "First Saturday of the month breakfast" at Farm Kitchen north of Poulsbo.
From other Blogs
A Visit to the Beautiful Point no Point Lighthouse, youdidwhatwithyourweiner.com
Field Trip – Mavis Goes to the Poulsbo Farmer's Market, onehundreddollarsamonth.com
Sound Brewery in Poulsbo, washingtonbeerblog.com
_ _ _ _ _ _ _ _ _ _ _ _ _ _ _ _ _ _ _ _ _ _ _ _ _ _ _ _ _ _ _ _ _ _ _ _ _ _ _
Photos: wall mural by sea turtle, bakery sign by daveraley, cafe luna entrance by rlpporch, Poulsbo waterfront by JeriSisco, downtown Poulsbo by Ian Crowfeather, Poulsbo dock by Find the Jake, Olympic mountains by RVWithTito, bakery by selbeB,  Liberty Bay Bookstore by Northwest TripFinder.