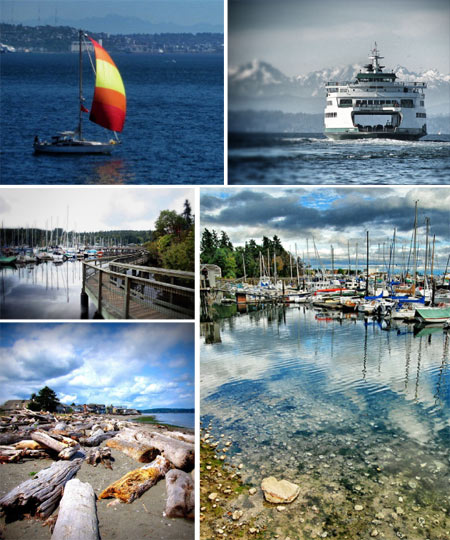 Step off the ferry  onto Bainbridge Island, and experience a Northwest way of life with rural character that incorporates the best of the big city just across the water. You'll find upscale boutiques here, great coffee and pastries, bookstores and even a children's museum for the kiddos. If you visit for just a day trip, stay for dinner; Winslow is now home to several restaurants that rival Seattle's best eateries.
Beyond the village of Winslow, Bainbridge Island is beautiful, lush and rural. The island has a rich array of parks, wineries and nurseries to visit, and is the gateway to the Olympic Peninsula beyond.
Why go? Bainbridge Island is a top day trip to give out-of-town guests a taste of what lies beyond the city, or a quick escape when a Saturday morning just begs you to get out of town for a spell.
Getting There
Bainbridge Island is one of the easiest day trips from Seattle, and tourists love it for the short but scenic ferry crossing. From Seattle, board a Washington State Ferry from the downtown ferry terminal at Pier 52; the crossing is approximately 30 minutes and delivers you right in the middle of the village of Winslow. Leave the car behind if you want; there's plenty to keep you busy in Winslow, or take your bikes on and ride to the parks, gardens and wineries beyond.
Things to Do
Where to Eat
A great first stop off the ferry is Blackbird Bakery for a strong cup of Herkimer Coffee and a fresh-baked pastry or gluten-free muffin. See, Seattle isn't so far away after all.
Looking for a family-friendly eatery? Try the Streamliner Diner, a long-time favorite for egg-lovers and coffee fanatics alike.
On the north end of town is the newly-opened Bainbridge Island Brewing Company, which doesn't serve food but you're welcome to bring in your own while you enjoy a pint of craft ale in their taproom.
Farm-to-table is all the rage at Hitchcock, which serves up locally-sourced, French-inspired bistro fare and is particularly known for sublime meat dishes, including house-made cured and smoked meats. Inventive desserts like earl grey creme brulee finish your meal.
Seattleites are crossing Puget Sound just to dine at Restaurant Marché, chef Greg Atkinson's new Northwest-meets-France style bistro. Fresh local seafood is plentiful on the menu.
Splurge for a cone of fancy, homemade ice cream at MORA. Their old world, artisanal process of making ice cream results in a velvety, creamy texture, and their 50+ flavors (from green tea to lemon bar) are out of this world.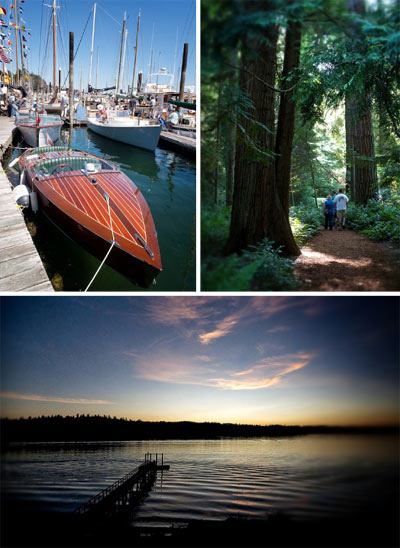 Where to Stay
Many visitors to Seattle make a side-trip to Bainbridge Island just for the day, but you'll have more time to explore and experience this beautiful place if you stay overnight.
The Eagle Harbor Inn sits on the waterfront facing the marina and bike path, and is walking-distance to the ferry so the top choice for travelers coming to Bainbridge without a car. Suites are available, as well as townhouses with full kitchens.
Don't Miss
The Bainbridge Island Farmers Market, Saturdays April – October, 9am – 1pm at the Town Square at City Hall.
Artist studio tours occur seasonally. Take a tour and meet artists like local potters and painters as you discuss their work and even see them in action.
Tap your toes to great live music at the Bainbridge Bluegrass Festival in July.
Photos: child looking at sailboat by majorbonnet, mural by mokolabs, sailboat by bigskyred, driftwood on beach by kendura99, tugboats by Curtis Cronn, wooden boat at dock by eldan, sunset on beach by BrittneyBush, Streamliner Diner by Curtis Cronn, Mora sign by camknows, wild mushrooms by sea turtle, fern by sea turtle, marina walk by Colorado_Chris, marina and water by marc cappelletti, Bloedel Reserve by Chiot's Run, ferry to Bainbridge by tobiaseigen.