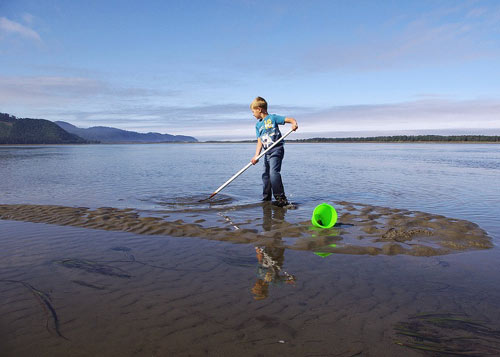 On the Oregon Coast, small seaside communities offer a nice alternative to the larger vacation destinations. Netarts is one such place, a tiny fishing town (there's a Crab Avenue here) nestled in a coastal temperate rainforest and surrounded by opportunities for hiking, tide-pooling and other outdoor recreation. It sits just south of Oceanside on Oregon Coast Highway 131.
Getting There
Netarts is about 80 miles from Portland, and the drive is pretty straightforward. From Portland, take US 26 west to OR 6, then continue west over the coast range until you come into the town of Tillamook. Continue west on OR 131 until you come to Netarts. View Larger Map and Directions
Where to Eat
Oysters don't get more local than at The Schooner, where a plate of Netarts Bay Grilled Oysters with house aioli is sourced from the bay in front of you. Serving fresh, local food for breakfast, lunch and dinner, The Schooner is the spot in Netarts for great food with a view. If you don't care for seafood, don't despair – order a cheesy wood-fired pizza or one of the several steaks on the menu.
If you're in a hurry or just want super tasty food at a great price, eat at Sugarfoot's, where the menu is inventive and varied. Don't tell me you hear "slow-cooked, BBQ pulled chicken sandwich with melted Tillamook cheddar, onions and dill pickle on toasted Ciabatta bread" and don't want to make a beeline there for lunch, now. Call (503) 354-2422 to place your order.
Just up the road in Oceanside is Roseanna's Café where the taste of the ocean is deliciously served on your plate – try fresh local oysters, grilled wild salmon or a steaming bowl of clam chowder, and save room for some cobbler made with seasonal Oregon berries.
Things to Do
Explore Cape Lookout State Park, a steep-cliffed promontory and sand spit that juts out nearly two miles into the Pacific Ocean, sheltering the waters of Netarts Bay. This is the wild beach in all its glory. Take a beachcombing jaunt along the Netarts Spit, keeping an eye out for looking for glass floats and other sea-worthy treasures. Or, strap on your backpack and hike the 2.5-mile Cape Trail that snakes its way to the tip of Cape Lookout, enjoying the awesome ocean vista from the northern coast's westernmost headland. Look up once in awhile and you might just spot a passing whale, or a colorful para-glider.From the park's campground departs the .25-mile Cape Lookout Nature Trail is a perfect jaunt for small children or people just looking for a quick escape into natural forest.
Take a beach stroll. The beach here is sandy and you can stroll in both directions from the village of Netarts for a few miles. Dress in layers as it can be windy, even in summer. And don't miss the sunset!
Watch whitecaps thrash in from the sea. From late fall through early spring, the Oregon Coast is the place to watch ocean storms roll in, and you'll have a front-row seat from your inn or vacation rental in Netarts.
If the weather keeps you indoors, seize the perfect opportunity to tour the nearby Tillamook Cheese Factory and grab a cone of their house-made ice cream (the free tour is self-guided, daily 8am to 6pm).
Is quilting your hobby? In nearby Tillamook is the Latimer Quilt and Textile Center (admission $4) where you can ogle antique and contemporary quilts and watch demos of weaving and spinning.
Just north of Oceanside is the Cape Meares Lighthouse and Wildlife Refuge (open daily, 7 am to dusk, no entrance fee) with three miles of hiking trails, including a path to Big Spruce, Oregon's largest Sitka Spruce tree.

photo: child clamming Netarts Bay, Oregon Department of Fish and Wildlife. Delicious sandwich by Sugarfoot's. Sunset with people on the beach at Cape Lookout by Matt Picio via Flickr.