HELLO! WELCOME TO #NWTRIPCHAT.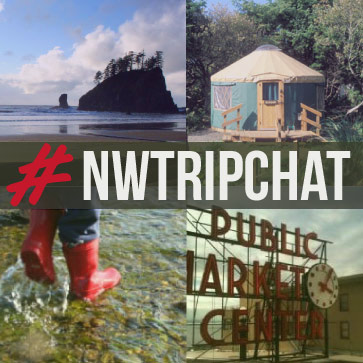 WHAT: #NWTripChat is a monthly Twitter chat for people who love exploring the beautiful Pacific Northwest.
WHEN:  NO CHATS SCHEDULED in 2014.
WHERE: On Twitter! Join in using the hashtag #NWTripChat.
WHO: #NWTripChat is hosted and moderated by @nwtripfinder. Each chat will feature expert guests in the field of Northwest travel and recreation to bring their perspective and knowledge to the topic at hand. Everyone is welcome to join in and participate in the chat.
WHY: #NWTripChat is all about local travel! We share trip stories and favorite places and engage travelers and tourism folks in conversation with one another.
CHAT TOPICS
Each #NWTripChat lasts an hour and will hone in on a specific topic related to exploring the Pacific Northwest. We'll also leave time for participants to share their recent trips, and ask questions about whatever local travel-related topic is on your mind.
To request a future #NWTripChat topic, email your ideas to lauren@nwtripfinder.com.