View Victoria, British Columbia in a larger map
There's so much more to Victoria than high tea, castles and crumpets, but there's absolutely no harm in starting there! If you step into this beautiful city a bit further, you'll find gorgeous parks and waterways, diverse neighborhoods and a nearby pastoral valley well worth your detour.
Getting to Victoria, BC
The beautiful city of Victoria sits on Vancouver Island's southern tip. The most common way for mainlanders to get there is by ferry, and there are a few options. Washington State Ferries sails a boat for passengers and cars from Anacortes (located 90 miles north of Seattle) through the San Juan Islands to Sidney, B.C. once daily in the fall and spring and twice daily in the summer, with no sailings in winter. Reservations are recommended– call 888-808-7977.  You can also get there via Black Ball Coho Ferry, which sails from Port Angeles on the Olympic Peninsula of Washington crossing the Strait of Juan de Fuca up to Victoria. From Seattle, you can ditch your car and board the Victoria Clipper, a passenger boat that sails year-round and gets you there in three hours. Remember, a valid passport is required for U.S. citizens to travel to and from Victoria, B.C. And of course, you can also cross on BC Ferries from Vancouver (Tsawwassen) to Victoria (Swartz Bay).
Things to Do in Victoria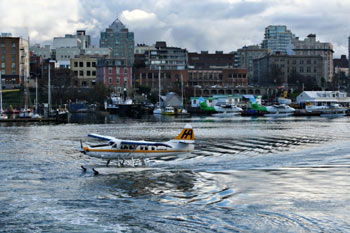 Stroll Victoria's Inner Harbour for the city's best people-watching. Small houseboats line the harbor, backdropped by the striking Baroque revival Parliamentary buildings and some very fancy hotels, including The Empress. If you enjoy taking in the local flavors, sights and sounds of a city, plan to spend half a morning or afternoon here with a cup of coffee and a camera (I love the coffee at Paradiso Di Stelle on Wharf Street at Bastion Square.) Join the street strollers as they gather to watch mime artists or listen to bagpipers. You can boat-watch, too–the harbor itself, small as it is, hosts fishing boats, foot taxis and big ferry boats as they go to and fro all day long. Paddlers in colorful kayaks skirt along the shore. Float planes drop in to unload passengers. Even the occasional harbor seal bobs up out of the water for a bit of people-watching.
Hit the market. Vancouver has the Granville Island Public Market and Seattle has Pike Place Market, and Victoria recently joined these cities with its very own! The Victoria Public Market is open year-round in the historic Hudson building (1701 Douglas St), and highlights local food producers at every level – local farmers, fishers, butchers, bakers, cheese-makers, preservers, brewers, vintners, florists and restaurateurs.
Paddle a kayak in the harbour. Have you ever paddles a kayak in the middle of a bustling city before? Rent your kayak at Ocean River Adventures, then set out for a tour of the inner harbour, where float planes land, foot ferries zip around and seals play. Out on the water you'll want to take advantage of the photo op of The Empress Hotel. Here's a fun idea: pack some scones and a thermos of Earl Grey and have afternoon tea out on the water.
Visit the Royal BC Museum (675 Belleville St.)  Even if you're not a "museum person," consider a visit because this is truly one of the best museums in the Pacific Northwest, highlighting the human and natural histories of British Columbia. The museum is known for its realistic dioramas, engaging exhibits, and it even has a life-size woolly mammoth.
Take a bike ride. Victoria is known as the cycling capital of Canada, and boasts hundreds of kilometers of bicycle paths and lanes (nearly 6% of Victoria's residents commute to work on two wheels.) You could even leave your car behind, taking only your bike onto the ferry from Vancouver to Swartz Bay as the Lochside Regional Trail stretches from the ferry terminal into Victoria. Click here for more on biking in Victoria.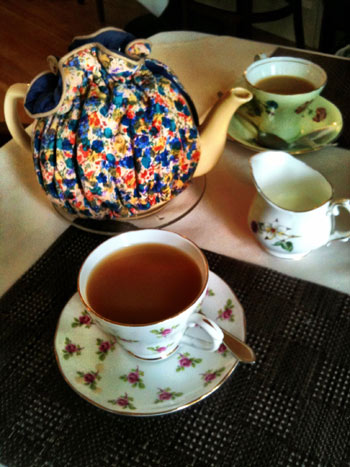 As for me, make mine tea! Victoria is known for English tea service, and if you have any interest in this at all you simply must give it a try! Tea service in Victoria usually comes at all-inclusive price, and it ranges from $10 to $60 per person, depending on where you go. By all-inclusive that means tea and a selection of tea sandwiches or scones with cream, crumpets with lemon curd, etc. Read more about our favorite places to go for tea in Victoria.
Make the short trip to see the lovely Butchart Gardens (21 km north of Victoria in Brentwood Bay, in bloom year-round). A century ago this land was a limestone quarry that helped fuel the building boom of British Columbia. Once the resource was depleted, the quarry's owners had another use in mind–55 acres of beautiful blooming gardens. The garden's pathways are jam-packed with tourists from around the world in summer months, so plan an off-season visit to avoid crowds. I love coming here and snapping photos for inspiration in my garden back home. The Garden's Dining Room Restaurant serves High Tea.
Where to Eat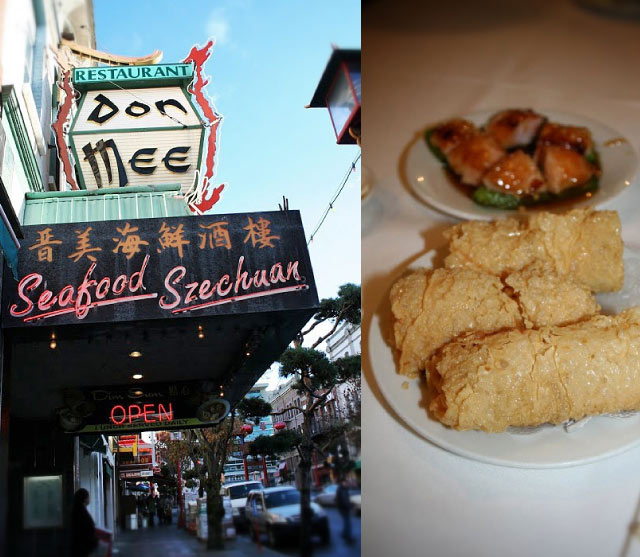 Nosh like a local at Red Fish Blue Fish (1006 Wharf St.) where the fish is wild, the fishing is sustainable, and the result is delicious. Their fish & chips are like nowhere else… Wild Pacific salmon and chips (fries) tempura-battered with homemade tartar sauce and slaw. Splurge an extra couple of bucks on malt vinegar syrup for dipping (wow!) and a side of poutine.
Victoria's Chinatown district has several spots for terrific dim sum, a fun treat for weekend brunch or lunch. Try the lively upstairs dining room at Don Mee (538 Fisgard St). Take a seat, sip some tea and  waitresses will push trolley carts to your table with dainty and delicious Cantonese-style snacks like little steamed dumplings and deep-fried spring rolls. Unless you know Cantonese you probably won't know the names of the dishes called out — just choose what looks good to you!
Places to Stay in Victoria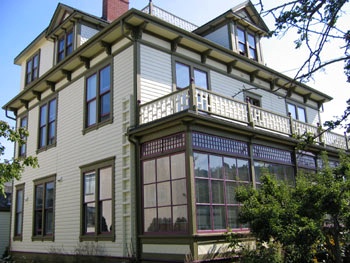 Victoria is home to dozens of luxury bed and breakfasts. One of our favorites (and where we honeymooned!) is Ashcroft House (670 Battery St), a heritage landmark home in a most perfect location, just a block from Beacon Hill Park and the James Bay waterfront while still within walking distance to downtown and the Inner Harbour. The breakfasts at Ashcroft House are simply phenomenal, and rates are a great value.
Victoria also has plenty of moderately-priced, excellent accommodations for budget travelers with discerning taste. A few independent boutique hotels downtown are surprisingly affordable for the digs. Try the Hotel Rialto (653 Pandora Ave) where you'll get a deluxe room at a great price.
The new Oak Bay Beach Hotel (1175 Beach Dr) has mineral swimming pools and three delicious restaurants–think of it as a mini-resort on the water. It's close to downtown but not downtown, so you get to experience a different side of Victoria.
Read more about Victoria
Cascadia Kids made this massive list of free and cheap things to do in Victoria with kids.
Headed to Chinatown? Serious Eats has this essential guide to Dim Sum.