Visit Washington's prettiest maritime village with a picture-perfect view of Mount Rainier.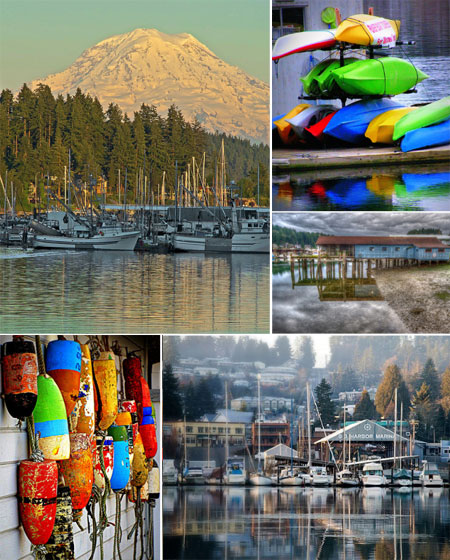 Every cliché a travel writer tries to avoid when describing Gig Harbor invariably fits all too well: It is charming, extremely quaint and of course, a total hidden gem. We just can't help ourselves. Gig Harbor is the kind of town that prompts casual visitors to start browsing real estate listings.
And for romantics like us, it's the kind of town engaged couples decide they simply must get married in. My husband and I tied the knot in my parents' Gig Harbor backyard in 2006.
Visit as a quick day trip from Seattle (no ferry crossing required!) or even better, make your trip to Gig Harbor an overnight romantic getaway.
Getting There
From Seattle, take I-5 South past downtown Tacoma. Exit at 132B for Washington Highway 16 West.  You will cross the Tacoma Narrows Bridge, which is a toll bridge but there is no toll this direction (there will be a toll on the return trip). After you cross the bridge you are officially on the Kitsap Peninsula and almost to Gig Harbor. Exit at Wollochet Dr NW toward City Center. Make a  right onto Pioneer Way – this will take you through a residential part of town down to Harborview Drive, the city center.
If you want a ferry crossing in your trip, head to the Fauntleroy ferry terminal in West Seattle and take the ferry to Southworth. SE Sedgewick Rod (160) will take you to Hwy 16. Head south to Gig Harbor.
Things to Do
Take a walk. The best way to see Gig Harbor is on foot, and a stroll along Harborview Drive as it winds from Old Ferry Landing Park to Crescent Creek Park is the best walk in town.
Love boats? Head straight to the Harbor History Museum. Most of the museum's exhibits center on the maritime history of the Gig Harbor Peninsula. The star attraction right now is the public restoration of the 65-foot Shenandoah fishing vessel. Watch and interact as community volunteers bring this vessel back to its former glory, and learn about classic wooden boat-building techniques.
Paddle the harbor. If you bring your own kayaks, my favorite place to put in is the Gig Harbor Public Boat Launch, which is on the north side of the harbor not far from Crescent Creek Park.  Parking is free and plentiful, but on the street. This spot is nice because it's well away from the marina boat traffic on a busy day. Right downtown, you can also launch from the busier Jerisich Dock at Skansie Brothers Park, street parking only. No boats? Rent kayaks at Gig Harbor Rent-a-Boat (from $16 per hour) where you can also take out a pedal boat, canoe or stand-up paddleboard. Lessons and tours available, too.
Pack a picnic and head to Crescent Creek Park on the north shore of the harbor.  You'll find a covered kitchen with water, sinks and wood stove in addition to picnic tables and BBQs. The park has a play structure with swings for kids, a baseball field with bleachers, and stream bed viewing platforms. To reserve the shelter or tables call (253) 853-7638.
Gig Harbor has its own Skateboard Park for boarders and rollerbladers. The park includes a large concrete bowl for skaters, kids climbing wall, play structures, benches and trails. Open dawn to dusk. Restrooms available.
Where to Eat
Whether you arrive by sailboat or motorcycle, you'll be welcome at The Tides Tavern, Gig Harbor's friendly and much-loved waterfront restaurant. Their menu is standard pub fare like burgers and salads; I always get the fish and chips and a pint of IPA. Grab a seat on the deck if the weather allows. Note to families: The Tides is 21 and over only.
For fine dining, the place to go is Brix 25. Entrees include steaks to great Northwest fare like clams and rainbow trout. You'll enjoy terrific service and their wine list is awesome. Worth the splurge.
Just want a refreshing beverage? Head to the source – the taproom at 7 Seas Brewing Company, serious makers of great craft beer. Grab a stool and order a pint of Cascadian Dark Ale or Ballz Deep Double IPA.
Eat like a local! From brunch with friends to dinner with family, you'll love Kelly's Cafe and Espresso. Oh, but especially breakfast, from biscuits and gravy to piles of pancakes, breakfast at Kelly's is the best.
Thai Hut is in a little bungalow near Donkey Creek Park and serves solid, standard Thai food (great Pad Kee Mao) with some unexpected standouts, including many vegetarian dishes and unusual curries.

View Gig Harbor in a larger map
Don't Miss
The first Saturday of every month hosts the Gig Harbor Waterfront Art Walk from 1-5pm.
Celebrate local craft beer at the Gig Harbor Beer Festival in May.
Gig Harbor kicks off summertime at the Maritime Gig Festival in early June.
In August, join the hundreds of watercraft that gather around Cutts Island for the annual Underwater Music Festival.
_ _ _ _ _ _ _ _ _ _ _ _ _ _ _ _ _ _ _ _ _ _ _ _ _ _ _ _ _ _ _ _ _ _ _ _ _ _ _
Photos: The Shenandoah by Gexydaf, colorful floats by roswellsgirl, piled kayaks by roswellsgirl, Tides Tavern by wilddogz, Skanskie Pier by DTWPuck, foggy harbor by roswellsgirl, Gig Harbor sunset by Dylans Mom, lighthouse by Michael D. Martin, Gig Harbor marina by Remote Sky.