Summer is half over! Does mid-August give you a mid-summer crisis, too? Six weeks of summer left, and I feel it's passing way too quickly. It always does here. So I pull out my calendar, and I start scribbling trips in.
Here are six sunny day trips from Seattle to squeeze the most out of summer.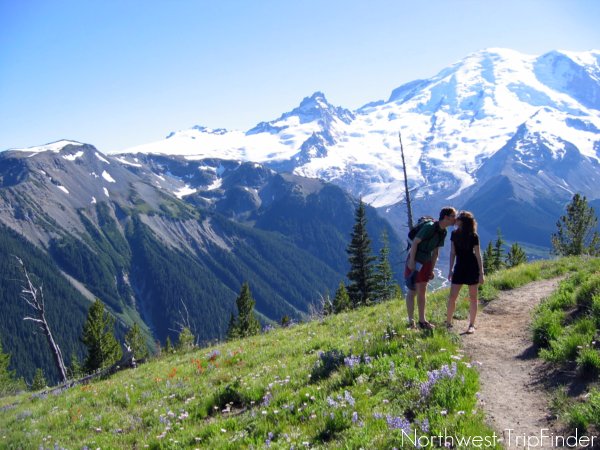 Mount Rainier National Park
Like to hike? Washington has 9,000 miles of trails, and none are quite as beautiful as those on Mount Rainier in August at the peak of the wildflower bloom. The park entrance fee is $25 per vehicle, good for seven consecutive days. For a wildflower-heavy hike that is short and sweet, walk the 1.4-mile Nisqually Vista Loop that leaves right from the Paradise parking lot. From a more strenuous and longer hike in this area, try the 6-mile Skyline Trail Loop through meadows bursting with color. On the park's east side out of the Sunrise Visitor Center parking lot is the 2.5-mile Sourdough Ridge Trail, a quick jaunt through Rainier's alpine splendor. For these hikes and many more, check out Day Hiking: Mount Rainier National Park Trails published by The Mountaineers Books.
Vashon Island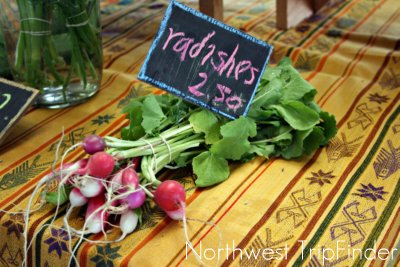 Think it's not summer without a visit to one of our gorgeous islands? Do it in a day with a day trip to Vashon Island. From the Fauntleroy ferry dock in West Seattle, Vashon Island is a short boat ride away. Head south on the island's main highway and drive through town. Vashon Island Coffee Roasterie makes a great stop for communing with the locals, and there's an ice cream stand on the back porch. Then head to Pt. Robinson Park on the east shore of Maury Island for beachcombing, kite-flying and to visit its historic lighthouse. On Saturdays, stop by the Vashon Farmer's Market in town for fresh produce and crafts.
Bainbridge Island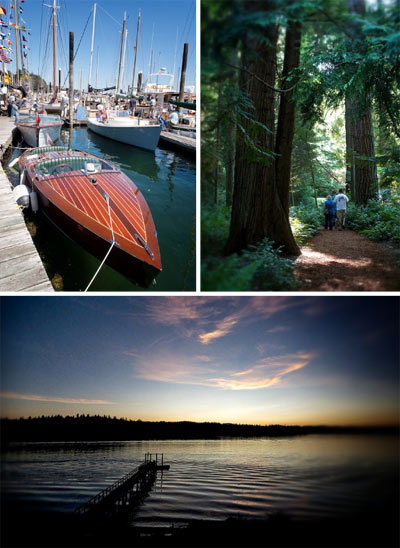 No car? Catch the ferry downtown Seattle at Pier 52 across Puget Sound to Bainbridge Island. Don't cat nap during the crossing because you won't want to miss a minute of the views of the Seattle skyline behind you and the peaks of Olympic mountains in front. Once you disembark the boat, walk up the short hill to the charming town of Winslow and spend your lazy summer day eating and window shopping. Hit up Blackbird Bakery for morning coffee and a croissant, dine al fresco at Cafe Nola for lunch, then indulge your sweet tooth with fudge at Bon Bon Confections. Work it all off with a walk along Winslow's sheltered harbor.
Jetty Island
Want to spend the whole day on a sandy beach? Build sandcastles close to home on Jetty Island in Central Puget Sound. From downtown Everett, take the free foot ferry to the man-made mass of sand that started as a rocky breakwater for Everett's waterfront. There are no cars here- just two miles of sand, tide pools, buckets and kites. Although the ferry ride is free, a boarding pass is required. Get your passes at the ferry dock kiosk, first-come, first-served. Note: The ferry to Jetty Island only runs for a few summer months, generally July – early September.
Chimacum / Marrowstone Island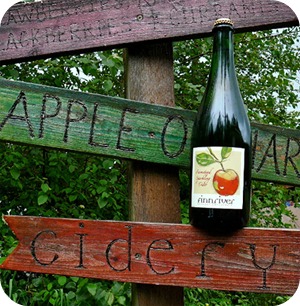 Want a taste of summer in the Pacific Northwest? Take a driving tour south of Pt. Townsend, where you can tour three local cideries. After lunch and a slice of pie at the Chimacum Cafe, take a beach hike with a history lesson at Fort Flagler State Park, formerly a military fort designed to protect against attacks in times of war. On Sundays make a stop at the Chimacum Farmers Market, which will please with more than a dozen booths and food carts.
North Cascades National Park
Got to get outside? North Cascades National Park is free – there is no entrance fee. Also free are the Historic Newhalem Walking Tours offered frequently, and the park offers affordable Skagit Boat Tours and North Cascades Expedition Shuttle Tours (check the Park's schedule of events here). Pair one of these with a 3-hour hike and you've got a great all-day trip. For a half-day hike in North Cascades National Park, try the lush Thunder Creek Trail (go as far as you want and then turn around).