Northwest TripFinder's new Like a Local series explores the Pacific Northwest through the eyes of avid travelers who live here.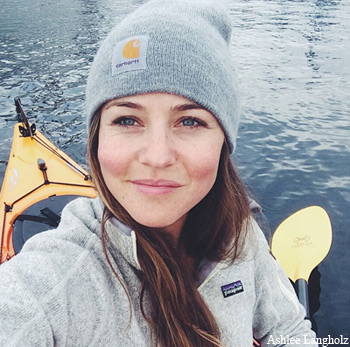 If you're on Instagram and you love exploring the peaks and valleys of the Pacific Northwest, you should be following Ashlee Langholz. Then again, seeing as she has over 50,000 scenery-loving followers hanging on to her every poetic caption accompanying stunning images from her (mostly local) trips, there's a good chance you already are.
Ashley's photos tell stories in a way that make you feel you're in them–breathing in the fresh air alongside her and feeling the sand between your toes.  She has a gift for storytelling, so I was not surprised to learn of her background in marketing. Her instagram sells you on the great outdoors of the Pacific Northwest in a rare, personal way. When I peppered her with questions recently, she explained that's exactly what she hopes to do.
Q: What drives you to capture and share your adventures on Instagram?
Ashlee: I'm on a mission to inspire time out of doors, and I'm driven by curiosity and desire to understand the intersection between people, experience and the outdoors. I'm big on local travel, people who give a damn, places that make me feel small, lightweight paddles, and outdoor coffee. I'm not big on the notion that you have to be a badass to be outdoorsy.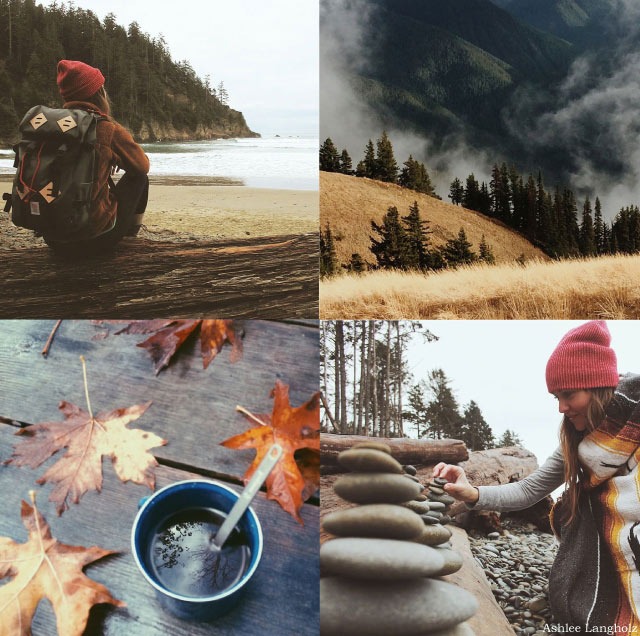 Q: You've lived in the Northwest for a few years now. How does Seattle stack up as a home base for an outdoor adventurer like yourself?
Ashlee: I've lived in both Denver and Portland and while those are amazing places, Seattle offers a level of variety that's undeniably unique. I'm sure there are some smaller cities that rival Seattle's access to adventure, but I can't think of a better "big city" to call home base.
Q: Your Instagram is one of my favorites, full of inspiring images from your outdoor adventures. When I see your pictures, I want to be there! What are your tips for capturing images from travels and adventures that tell a story or inspire others?
Ashlee: Well, that's very kind of you. I'm glad to hear it. I suppose my deep love affair with the outdoors shows through and perhaps my somewhat private personality allows people to feel more like a part of it. I know that some people simply can't get out as much as I do, whether that's due to physical limitations or life's demands, so I like being able to share what I see and experience, and then sort of step out of it's way.
Q: What's your favorite early summer hike for beginners?
Ashlee: Oyster Dome and Mt. Pilchuck are good ones if the legs are stiff from winter.
Q: After a great hike, you gotta eat! What's your top road food find in the Northwest?
Ashlee: That's a hard question, each direction has it's own spots. For experience, Birdsview Brewery near Concrete has a great grassy patio out back. Plus, you can play horseshoes if you have energy to spare. For food (and a little experience), the Olympic Timberhouse (Quilcene) is a warm and quirky spot to refuel.
Q: Favorite Northwest national park, and why?
Ashlee: Olympic National Park, but only by a sliver. I think the variety point trumps some of the other parks, which are all magnificent. ONP has it all- snow covered mountains, moss covered trees in the rainforest, and sunsets over the pacific ocean. There are no roads through the interior, which make it a backpacker's dream. And I haven't even touched the surface.
Q: You like to kayak. Me too! What's the most stunning paddling trip you've taken recently?
Ashlee: A sunset paddle along the west coast of San Juan Island. We were lucky enough to have calm waters below us reflecting the bright pink sky above. It's unforgettable.
Q: What are three things you think every Pacific Northwesterner should put on their bucket list?
Ashlee: That's tough. Kayaking in the San Juan Islands, backpacking and camping on Second Beach, and staying the night in a fire lookout.
Q: How do you plan your local trips?
Ashlee: Luckily, I get a lot of good tips from friends who've lived here longer than I have. We live in an area that often shows up in Outside Magazine and Sunset Magazine so we keep those close at all times. I also scout current conditions via Instagram and get all trail information from Washington Trails Association,  WTA.org.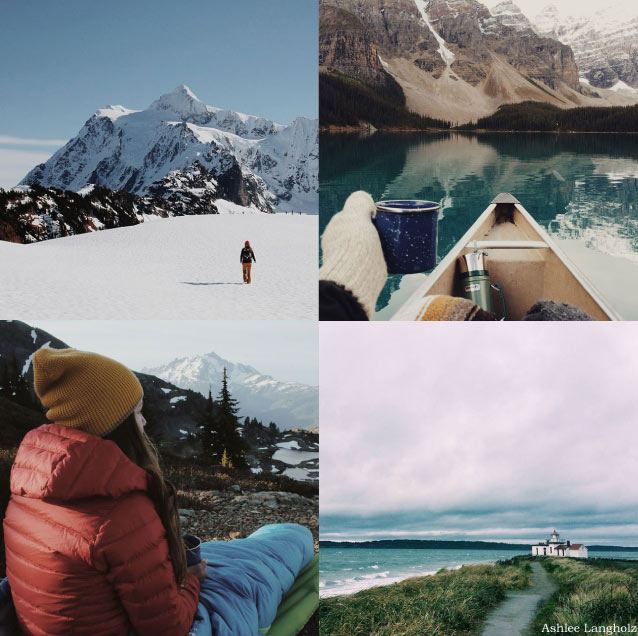 Q: How do you fit so many adventures into your work schedule? What advice would you give to others who have a hard time squeezing in local hikes and getaways?
Ashlee: Seattle makes adventures extremely easy, even during the week. We keep our kayaks on the water and often squeeze in paddle time before and after work. We take dinner to the beach, and hike around the local parks at sunset. My advice would be:
1) Keep your gear in one place so it's easier to pull things together
2) Divide trip planning with friends. Get 2 for the trip planning time of 1!
3) Keep it simple. Remember getting out doesn't have to be complicated.
3) Make it a priority. If you book that yurt in January, it's likely you'll get there 🙂
Q: Now for a very important question… how do you make your coffee at camp?
Ashlee: Good coffee is important anywhere. If I'm lucky, I'll bring grounds and make it with my Chemex. If I'm really lucky though, I'll be backpacking and will make it with Starbucks VIA.
Q: Where will you be traveling this summer?
Ashlee: Hopefully all over, but a few priorities are Joseph, Oregon and the Wallowas, Stehekin, and the Garibaldi, BC area.
Thanks so much, Ashlee, for taking the time to share your outdoor wisdom with us!
Be sure to follow Ashlee on Instagram – you will love the daily outdoors inspiration.
All photos are copyright Ashlee Langholz.