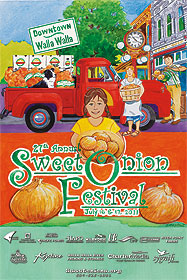 The Walla Walla Sweet Onion Festival event is planned each year by Kathy Fry-Trommald, of the WW Sweet Onion Marketing Committee, and a group of dedicated folk from our community. This event proudly showcases our state's vegetable.
The festival is all about free family fun! Shop at the Farmers Market, enjoy live entertainment, recipe and art contests, children's games – even an onion eating contest! Don't forget about onion bowling and onion sack races.
The story of the Walla Walla Sweet Onions began over a century ago on the Island of Corsica, off the west coast of Italy. It was there that a French soldier, Peter Pieri, found a sweet onion seed and brought it to the Walla Walla Valley.
This Sweet onion developed over generations through the process of carefully hand selecting onions from each year's crop, ensuring exceptional sweetness, jumbo size, and round shape. Today's growers realize they're not just raising sweet onions, but cultivating a tradition.