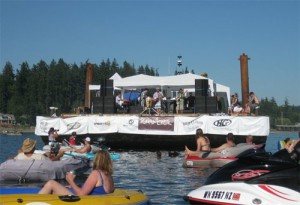 Got a boat? Even a kayak will do.
The Underwater Music Festival congregates around Cutts Island State Park, a small island off the coast of Kopachuck State Park in Henderson Inlet near Gig Harbor. It's the only on-water music festival in Puget Sound.
Nearly 10,000 people are expected to gather this year, coming by sailboat, canoe, kayak, yacht,  jet ski, or inflatable boat to enjoy great music and have a good time as a community. Make sure you pack enough life jackets and if you plan to drink, have a designated boat driver.
– – – – – – – – – – – – – – – – –
Join Amazon Prime – Watch Over 40,000 Movies – Start your FREE Trial Now.