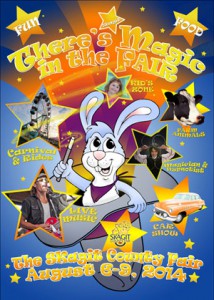 County fairs remain an enduring American institution. Could it be the roasted corn on the cob, the cotton candy or the lovable livestock? Oh yes, it is all that and much, much more that draws us to an August county fair.
Come one, come all to the annual Skagit County Fair in the heart of one of Washington's greatest agricultural regions. Celebrate this agricultural heritage in style August 6-9, 2014. Come for carnival, cars, contests, food and fun!
And of course, adorable farm animals.  Moo.
_ _ _ _ _ _ _ _ _ _ _ _ _
Join Amazon Prime – Watch Over 40,000 Movies – Start FREE Trial Now.