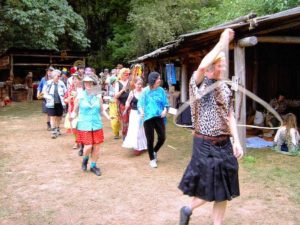 The Oregon Country Fair is not exactly your typical Americana-style summer fair. It's a little bit…. unique. You might find yourself in a drum circle here, for example. Or joining in a parade of people dressed as trees. Maybe you'll notice the distinctive smell of marijuana wafting through the air from time to time. Maybe. Who knows? That's the beauty of this fair – the unexpected is around every corner.
What this fair is really all about is having a good time together in the moment. Set in the small community of Veneta 13 miles to the west of Eugene, the Oregon Country Fair has drawn generations of open-minded, music-loving, artistically-inclined folks to immerse themselves in what can only be described as an adventure for more than 40 years.
In their own words:
The Oregon Country Fair creates events and experiences that nourish the spirit, explore living artfully and authentically on Earth, and transform culture in magical, joyous and healthy ways.