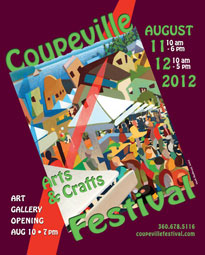 Looking for the best arts and crafts fair in the Pacific Northwest? This might be it.
Coupeville's historic waterfront is an ideal location for an arts and crafts festival, and this is a wonderful arena for local citizens to sell their hand crafts and arts.
Bring some cash, because you'll want to shop! The festival features hand-made jewelry, garden art, leather, paintings, metalwork, clothing, ceramics, glass, soaps, toys, food and so much more! Check out a recent festival brochure to get an idea of just how big and dynamic this craft fair is!
_ _ _ _ _ _ _ _ _ _ _ _ _ _ _ _ _ _ _ _ _ _
_ _ _ _ _ _ _ _ _ _ _ _ _ _ _ _ _ _ _ _ _ _