Is it trash or is it art? One person's trash is another person's treasure, indeed.
Upcycling is all the rage! Come learn all about it at Clark County's Recycled Arts Festival, the hippest, most eco-conscious festival in the Northwest. Come see for yourself how creative people are giving new life to items that were bound for a landfill near you.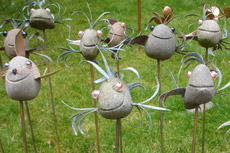 The Recycled Arts Festival is part of an ongoing effort to encourage waste reduction, reuse, recycling and a cleaner environment in Clark County, Washington.
Come on out and peruse the artists' wares, help your kids recycle stuff into art,hear some live music and get all sorts of ideas about how you can improve the environment.