Advertise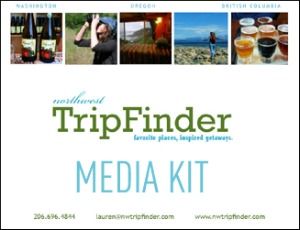 Northwest Tripfinder is your offbeat getaway guide to Oregon, Washington and British Columbia. We bring fresh inspiration and useful advice for planning your local trips, from the fossil beds of John Day to the food carts in Vancouver.  We love sharing the hidden wonders of local places and inspiring getaways that are fun and affordable. Read more about us.
Our 2013 MEDIA KIT will help you learn all about our audience, traffic, reach, and the many opportunities for your travel-related business to connect with our community of travelers.
Why advertise with us?
Because well-read niche blogs carry a lot of influence. We are a trusted source of local travel information. Trust drives action, and thus consumers look to bloggers like us before they buy.
Recent findings in Technorati's 2013 Digital Influence Report show that "consumers are turning to blogs when looking to make a purchase." Blogs are now the third most influential digital resource (31%) when making overall purchases, behind retail sites (56%) and brand sites (34%). Consumers said that blogs rank higher than Twitter for shaping their opinions and higher than Facebook for motivating purchasing decisions.
Our audience
Northwest TripFinder has a niche, highly targeted audience. Over 85% of our readers live in the Pacific Northwest, and they take several local getaways each year.
Our traffic is increasing steadily; we are now receiving over 65,000 monthly pageviews. Our monthly email newsletter has more than 1,000 subscribers.
Social influence: We currently have over 57,700 followers on Pinterest, 2,750 fans on Facebook  and 3,300 followers on Twitter.
Promotion platforms at a glance
1. Sponsored Listings
Want lasting impact for your lodging, winery, tourism organization or guide service? Buy an annual sponsored listing on Northwest TripFinder.
Learn more about these sponsored listing options:
2. Display Ads
Please see our 2013 media kit for current display ad sizes and rates, and then contact us. We also offer display advertising in our monthly email newsletter, which goes to more than 700 local travelers.
3. Native Advertising (Sponsored Content)
This is a powerful way to connect your brand with our editorial content. For example, your seaside lodge might sponsor a post on five nearby beach hikes. We do all the writing. You can sponsor an existing post, too. For details, contact us.
and more… contact us to discuss.
_ _ _ _ _ _ _ _ _ _ _ _ _ _ _ _ _ _ _ _ _ _ _ _ _ _ _ _ _ _ _ _ _ _ _ _ _ _ _ _ _ _ _ _ _ _ _ _ _ _ _ _
Northwest TripFinder in the Media
Northwest TripFinder was featured in The Seattle Times: New Players Help You Plan a Washington Vacation
Northwest TripFinder is a "top travel website" according to the Seattle Times.
We've were featured on KBCS's On the Blogs radio program about great local blogs in the Northwest.