There is a mountain that is calling your name.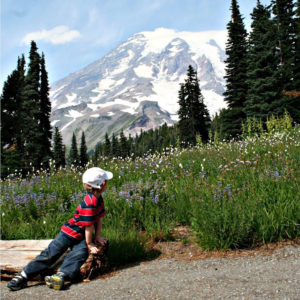 It's the most recognizable icon of Washington state's landscape. It has three of our state's best campgrounds and two outstanding historic lodges to sleep in. And whether you experience Mount Rainier National Park from a car, wheelchair, stroller or your hiking boots, it'll knock your socks off.
The Paradise area of Mount Rainier has always been one of my favorite spots in the Pacific Northwest. This past weekend, I decided that since my son had already been introduced to the cathedral trees of Ohanapecosh and the magical meadows of Sunrise that it was high time he met Paradise.
Before I had an actual child of my own, I used to give a lot of talks on how to hike with small children. (I also used to lecture on natural gardening while I myself lived in an apartment with only houseplants, but I digress.) If you attended one of my "hiking with kids" talks back then, I sincerely apologize. Not because I gave you false information, but because I left out a very important tip that I've only recently learned myself: leave early!
We hit the road for Rainier just a little too late in the morning, so our hike started right around what is usually a post-lunch nap. My kid needed a rest just 60 feet up the Nisqually Vista Loop Trail! Fortunately you need only hike ten feet on this trail for incredible views and a carpet of subalpine wildflowers.
The hike is just 1.4 miles and 200 feet elevation gain, and it's paved and accessible for wheelchairs and strollers.
If you go soon, you'll catch the tail end of wildflower season. I've put together a little guide to the wildflowers we saw below. Enjoy!