When I haven't traveled in awhile (and I haven't traveled in awhile), I start to make lists of where I want to go. Right now, the Methow Valleyis on that list, right near the top, for a late winter snowshoe trip. It's a fantasy, but I'm leaving it on there. This spring, I want to make it to the Walla Walla region for the first time, both to hike in the nearby Blue Mountain range and sip some wine at some of the smaller regional wineries. That's a trip that will probably happen. And then this coming August, I want to return to North Cascades National Park for a fabulous, rugged backpacking trip. (Having a ten-month old may put a small wrench in that one).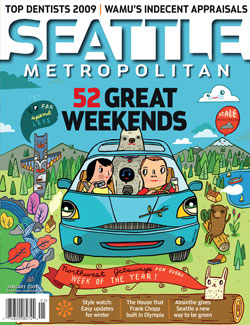 Imagine my joy, then, to open the January issue of Seattle Metropolitan magazine. Talk about a list! The cover story is "52 Great Weekends — Northwest Getaways for Every Week of the Year." Just reading through this list of weekend excursions got me mentally packing my bags and pulling out the old gazetteer.
Granted, most of the suggested trips don't point you to cheap sleeps for your overnight accommodations (in the Methow valley, for example, they'll send you to the uber expensive Sun Mountain Lodge, which bears little resemblance to the Idle-a-While.) But that's okay. Let them be out-of-touch. It's not the recommendation to stay at the Fairmont Vancouver that makes this article so great. It's the reminder – all 52 reminders – of all the Northwest has to offer. Even in 2-3 day chunks. And especially for locals.
The trip suggestions aren't original, but they're fun. How about an art-filled weekend in Tacoma? (If you are turning up your nose, you haven't been to Tacoma lately.) Offbeat weekend ideas include crabbing along the Oregon Coast or apple-picking in Wenatchee. For adventurous types, spend a Saturday surfing in Tofino (on the west side of Vancouver Island) or take in the rodeo in Pendleton. Personally, I'd pass on the golfing weekend at Suncadia Resort near Cle Elum. Ditto for the luxery resort at the Tulalip Casino. I just might have to check out the Bronze, Blues and Brews Fest in Joseph, Oregon this August, though. I wonder if they allow ten-month olds…